Taste your way through the Territory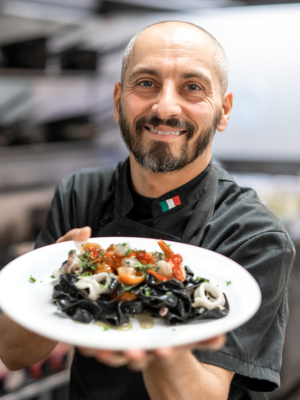 So you have your sights on moving to the Top; living in the Territory is an assured adventure; wide open spaces, balmy weather and job prospects galore - but did anyone tell you about the gastronomic delights that abound?
Strap your taste buds in and take a food journey through a tempting array of culinary delights from wild-caught saltwater barramundi, a signature dish of Pee Wees at the Point in Darwin, to Red Centre desert inspired tasting plates from Saltbush Restaurant in Alice Springs.
The options and dining experience are vast, be it alfresco under the stars or top-notch restaurant dining, we are here for it!
You can find an infusion of authentic international flavours at any local Territory market akin to the market stalls of South-East Asia. Thanks to Thai, Malaysian and Indonesian influences, you can find a spicy laksa, paw-paw salad or peanut chicken satay experience at most market locations. Eat your way through the local markets whether you are living Top End, Red Centre or somewhere in between. Read more about all our markets in the NT, including what you can find, when to go and how to get there.
Spend a little time in the Territory and you will quickly find out about the influence of local Aboriginal culture on the food scene. Learn first-hand on a bush tucker tour or visit Aboriginal Bush Traders in Darwin.
From top to bottom the Territory has signature dishes, follow the food trail from Darwin via Katherine and surrounds to Alice Springs and back again, better yet download a 3-day itinerary and do them all!
Still feeling adventurous? You can explore 7 unique foods to try in the Northern Territory and where to find them.