International Student Event Series launched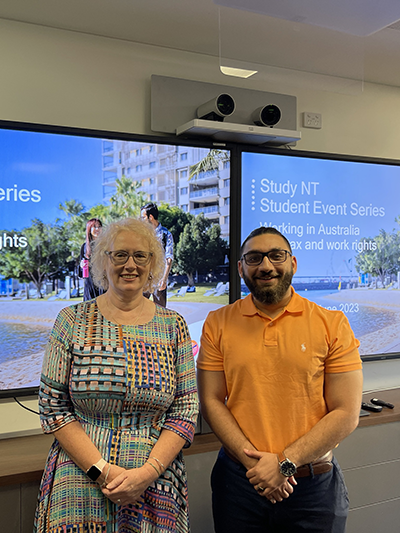 Study NT's new International Student Event Series launched last Thursday with the first event "Working in Australia: Understanding your tax and work rights".
Carey Trundle, Community Engagement Director at the Fair Work Ombudsman presented on work rights and Ali Dhirani from the CDU Tax Clinic ran a workshop on tax returns for international students.
Thank you to our guest speakers for guiding international students on these important topics. Fair Work Ombudsman provides a range of support services for all workers. And did you know the CDU Tax Clinic offers free tax return services to international students under a certain income threshold? Visit their websites for more information!
Over the next few months, the Study NT Student Event Series will cover themes such as safety, mental health and wellbeing and tenancy rights. The next event "navigating safety while studying in Australia" will be held on Thursday, 20 July. Subscribe to our student newsletter to receive the latest student events.