Discover Top End Street Art - explore outdoor accessible art all year round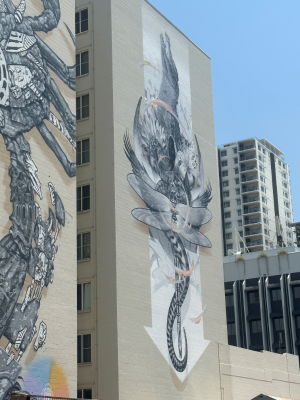 (2022 Australian Street Art Award winning mural 'Sanctum' – Darwin city.)
Art up here in the Top End is not just on the walls of galleries and museums; catering to our outdoor lifestyle, the canvas extends to the facades of buildings, fences, lanes and alleyways.
Darwin and Katherine are home to an eclectic array of abstract, portrait and interpretive art installations featuring local, national and international artists.
In its seventh year the Darwin Street Art Festival attracts thousands of visitors and locals to explore the CBD and surrounds.
Last year, artists Andrew Bourke and Jesse Bell won an Australian National Street Art Award for their submission 'Sanctum', paying tribute to Top End local nature and culture, accompanied by six other Territory finalists.
Ready to explore for yourself? Download the Darwin Street Art Festival app and take a self-guided tour through Darwin city, with more than 60 mural locations on foot or by e-scooter.
Katherine had its inaugural K-Town Street Art event in August this year, another site for local street art that is accessible and enjoyable all year round. With more than 15 murals along Katherine Terrace visitors and locals can explore and learn more about each mural at K-Town Street Art 2023 | Activate Katherine (nt.gov.au).