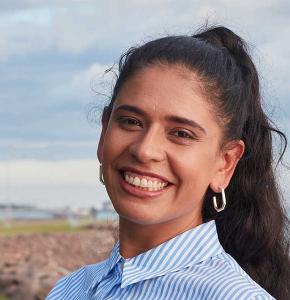 About Jimena
Jimena grew up in Colombia and moved to the Territory in 2019, where she commenced her studies with International House Darwin.
Jimena volunteers for the international student organisation Kindness Shake, leading the Events Management and Logistics team. She was responsible for organising the inaugural Kindness Festival in 2021. In that role she welcomed over 4,000 attendees, brought together more than 30 organisations and 5 multicultural groups, coordinated more than 30 multicultural performances and organised food vendors and entertainment activities. The festival was a huge success in bringing people together.
Jimena also provided integral support to the Australia Day Council Northern Territory, planning and delivering several events, including the OZ Forum, the Australian of the Year Awards, OZ Run 2022 and the annual Northern Territory Regional Conference. She also developed and managed wellbeing programs with Melaleuca Australia, focussed on international students and temporary visa holders.
Jimena demonstrates an extraordinary ability to plan and deliver a range of programs and events that showcase international students in the Territory and embrace their cultural diversity.
Additionally, Jimena was dedicated and committed as a Study NT International Student Ambassador during the year long program in 2021.