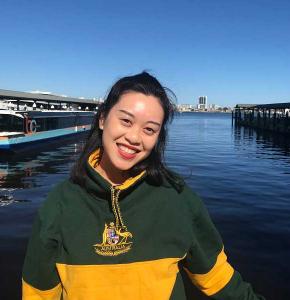 About Vicky
Vicky comes from China and is pursuing her Master of Professional Accounting (Professional Practice) at Charles Darwin University. Vicky is passionate about promoting the Northern Territory and Darwin and has been the international student representative for Reaching South to the Territory at the Australia Conference in Shenzhen, China.
After being the Bruce Munro: Tropical Light Ambassador, during COVID-19, Vicky participated in Austrade's #InThisTogether video campaign to showcase the community support, to share her online study experience giving confidence to the Chinese community about Australian education provider's online offerings.
Vicky's international study journey has been shared by Study Australia (official Australian Government website for international students), demonstrating how an international student can learn and grow in Darwin, Northern Territory.
Vicky was a finalist for the StudyNT 2020 International Student of the Year Award category at the Chief Minister's NT Export and Industry Awards.