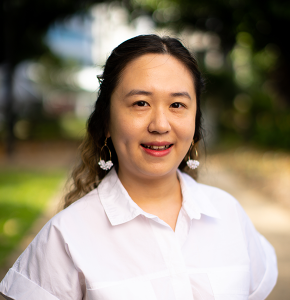 About Stella
In April 2019 I arrived in Darwin for the first time. I went on a three-day solo trip around Darwin's CBD before heading to Central Australia for regional work. In order to continue my journey, I lived and worked in a remote Aboriginal community located 1,000 kilometres from Darwin.
I decided to return to the Top End in mid-2021 to pursue a higher degree for a career change. Darwin has a thriving lifestyle and a diverse community. The locals are extremely friendly. You'll immediately feel at home!
I'm pleased with the options that CDU offers international and domestic students for receiving a world-class education in Darwin. Studying is now more adaptable, accessible, and convenient than ever before.
Balancing study, work, and life can be a difficult task. For the first two weeks of my studies, I was struggling. I graduated from university in 2014 and haven't studied since so I needed to readjust myself in order to find the best way to study based on my learning preferences. The support CDU has provided me has greatly aided me to do this and allowed me to be successful in my studies.
Life in Darwin has been a wonderful experience. Some of my recommendations and favourite things to do here are a Darwin Sunset Cruise Tour, Mindil Beach Market held every April to October and Darwin Symphony Orchestra concerts. Litchfield National Park is also my favourite day trip in the Top End. Overall, living and studying in Darwin is a one-of-a-kind experience that you will never forget.