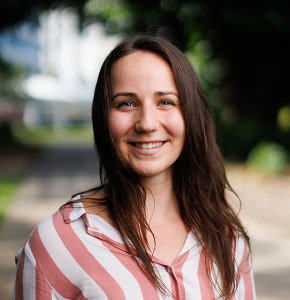 About Ema
Hello everyone, my name is Ema and I am from Slovakia. After I finished my Degree as a Midwife back home I decided to try living abroad. I do believe that people who travel and immerse themselves in different cultures become more fulfilled as a person. My first journey took me to London where I spent two and a half years. After that, the opportunity to come to Australia for one year on a working holiday visa grabbed my attention to explore a more exotic place. I have now been in Australia for three years!
Last year I decided to finish my Master's Degree in Australia as I wanted to have an Australian education and expand my skills and knowledge as a nurse. I made the decision to study in Darwin because of the welcoming multicultural community and opportunities that Charles Darwin University have to offer. I loved the approach and effort they put into all promoting materials such as videos, emails, showcases, online speeches and support.
Once I knew I was going to be living and studying in Darwin I looked at different projects and possibilities on how to develop my professional skills, volunteer and be part of the international student community. For that reason, I am grateful that I have a chance to be a Study NT Student Ambassador for this year.
My favourite thing about living in the Territory would be the unique lifestyle and very laid back, easy-going people who always smile at you or have a chat with you. Compared to bigger cities where the lifestyle is very busy this is much more enjoyable to me and makes me feel part of a community.