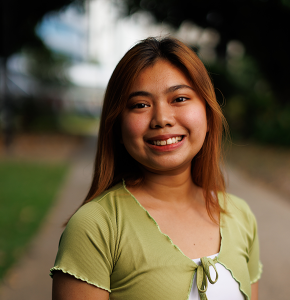 About Chrystal
Hi! I am Chrystal-J! I am 19 years old, from the Philippines and I arrived in the Northern Territory on 24 December 2021.
My first impression when I arrived in Darwin was "wow, this feels similar to the Philippines" but eventually I noticed that it's quite different; the people, culture, opportunities, and diversity.
The challenges of the pandemic really affected so many aspects of my life and for me, coming to the Northern Territory is a new beginning. I love how friendly and wonderful the people are. I feel welcomed and that I belong. Being in Darwin has made me realise that I've come so far in my journey and made me appreciate the little things in life. The Northern Territory has also taught me to be open in my thoughts as many people here want to hear your story without any judgment or discrimination.
I came here with my sister to study Early Childhood Education and Care. I feel fulfilled working with children. I believe that it's not just about the title or qualification as an educator you hold, but also the passion that you have in teaching children, as every generation will start with the children. I am happy to start a new beginning in my life, accept challenges, and finally grab the opportunities.