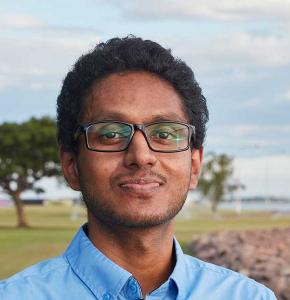 About Vick
Ayubowan! My name is Varuna but my friends call me Vick. I'm from Sri Lanka, a fascinating and cherished island in the Indian Ocean. I came to Darwin in June 2018 to do my master's degree in Civil and Structural Engineering at Charles Darwin University.
My life in Darwin has been remarkable from day one. I enjoy the amazing landscapes, warm weather, friendly people, and amazing food in Darwin.
Australia is known as the land of opportunity and I rate Darwin as the pinnacle of it. Darwin is overwhelmed with many professional and volunteer opportunities. During my first summer break, I completed a formal internship as a structural engineering intern in a reputed civil engineering consultant company in Darwin.
Currently, I am in the final year of my master's degree and working as a volunteer student engineer at HPA (Helping People Achieve - disability support service) organisation. Moreover, having demonstrated sheer passion, dedication and leadership, I was elected as a student ambassador for Engineers Australia Northern Territory Division for 2021-22, representing Charles Darwin University to promote the Northern Territory as the future centre for engineering.
The journey as a higher education student in the Northern Territory has been amazing. I am extremely motivated to establish a hospitable atmosphere for students coming to Darwin and support them to have a splendid Territory experience.