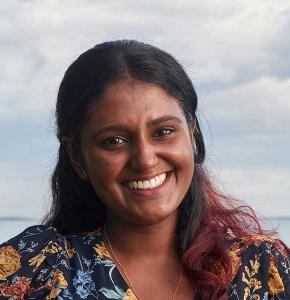 About Shehani
Ayubowan! I am Shehani from Sri Lanka, which is known as the pearl of the Indian Ocean.
Choosing Darwin, Northern Territory (NT) as my study destination has been one of the best decisions I've made and I'm already reaping the rewards of it.
I am currently in the last year of my Master of Engineering majoring in Mechanical at Charles Darwin University (CDU) and have been fortunate enough to receive the CDU Global Excellence Award in recognition of my academic achievements with a generous scholarship for outstanding results. Darwin and its multicultural community have welcomed me with open arms and the journey so far has been a memorable one.
Being the only child in my family from a small town, I was sceptical to move abroad. I was worried about being homesick. However, Darwin's beautiful nature, diverse community and the opportunity to meet people from diverse backgrounds, engaging in community and welfare programs has made sure that there was never a dull moment in my everyday life.
I was initially hesitant that Darwin would not have the potential in terms of career prospects having worked as an engineer for the National Airlines in Sri Lanka - I was proven wrong when I was offered an internship at a local engineering firm.
Apart from academic achievements, I felt the need to accomplish something outside of the lecture room and decided to get more involved in community and social work as a volunteer for different organisations.
I am privileged to be a StudyNT student ambassador representing my country and CDU as well as this beautiful city and the Territory. I believe it's now my turn to encourage future students like me to choose this land of opportunities.