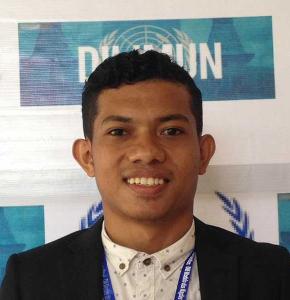 About Augusto
Hi my name is Augusto and I am from Timor-Leste.
I am one of the IT scholars from the Ministry of Finance, Timor-Leste. I am currently studying an English Academic course at Navitas English Darwin and I plan to continue my bachelor degree at Charles Darwin University in July 2017. I applied for the scholarship to come to Darwin as Darwin provides high quality education, a friendly environment and a metropolitan city. I was lucky enough to receive a scholarship and I am so happy because it is my first time pursing education in a foreign country.
When I arrived in Darwin I experienced a little bit of cultural shock but it did not take long to adjust. The things that I enjoy about living in Darwin are its food and weather, which are slightly similar to my country. I can still find Asian food everywhere even though I am living in a western country.
I love the sunsets. Darwin sunsets are the best sunsets that I have ever seen. I always spend my afternoons at Nightcliff Beach watching these sunsets which are breathtaking. In addition, Australian people are so friendly and they always say hi to you even though they don't know you.