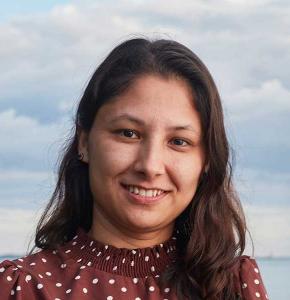 About Sandipa
Hello everyone! My name is Sandipa. I grew up in Kathmandu, the capital city of Nepal. My childhood was filled with magnificent temples and pagodas, long mountain treks, and mountain scenery. I remember asking my mum the names of all the Himalayan mountains we could see from the roof of our home. My mum used to worship in the mornings and put tika on my forehead. I loved the sound of the bells we used to hear every morning and the birds singing on our roof.
I was always adventurous and from a young age, I loved to travel. I used to go to Basantapur with my friends and sisters to have street food. I remember going on safari in Chitwan with my friends. We saw deer, snake, colourful birds and rhino in the dense forest there. We stayed for one week and every evening, we watched the sun set. On the last day, one of my friends and I went riding on an elephant. It was raining that day. The mahout could not control the elephant. We almost fell from the elephant's enormous back! It was very scary, but I also loved the excitement of the adventure.
In 2014, my adventurous spirit brought me and my husband to Australia. I started out working in a hospital in Sydney. That's where I first came across IT professionals, systems and technology. I had a desire to learn more about IT but it was not easy for a girl who had no computer skills! I didn't feel capable to enter this field. There were many challenges but I was determined to fulfil my dream. That's how I ended up enrolling myself in an information technology course. My husband and I moved in Darwin in 2019 so that I could study a Bachelor of Information Technology at the prestigious Charles Darwin University. Now I am dreaming of pursuing a career in the field of IT analytics. I am currently undertaking my Professional Year Program with Navitas Professional.
Darwin reminds me so much of the dense forest and climate of Chitwan. The birds here remind me of my own home. The Sunday markets remind me of the Kalimati Tarkari Bazar (vegetable market) back home. I enjoy Darwin's amazing people. They remind me of my neighbourhood, language and culture in Nepal. The sunset views, nearby beaches, and peaceful environment melts my heart. One of my favourite things to do in Darwin is to walk around East Point and watch the sunset view.
I am so proud to be one of the StudyNT student ambassadors for 2021. It has been a great journey as an international student so far and I look forward to sharing it with fellow students. I welcome you all to the Territory (your next home!) and I'm determined to help make your Territory experience incredible. I am sure you will find your dream here.