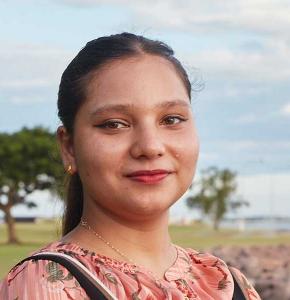 About Joshna
I was nine years old when I first saw a picture of the Sydney Opera House. I was fascinated and from that moment, I started dreaming about studying abroad.
After completing high school in Kathmandu, I researched overseas study options. I wanted to study in a country with a strong reputation for academic excellence. I remember sitting at my computer, at my home in Nepal, reading about Australia. I read that institutions in Australia offer a wide variety of courses and degrees, so international students can easily find the university and colleges that are right for them. I liked the sound of the dynamic and progressive education programs, globally-recognized courses, and the enjoyable, relaxed and safe student lifestyle, but the thing that grabbed my attention the most was the food! Growing up in Nepal, I was always interested in cooking, I remember the first time I baked pizza for my family in a steamer after watching instructions on YouTube!
In 2018, I sat the IELTS exam to qualify for tertiary education in Australia. I passed with an overall score of six. I applied for my student visa to go to study Certificate IV in Commercial Cookery at Australian Career College in Darwin.
I arrived here in 2018 and I quickly felt at home. Darwin is a vibrant, multicultural city, home to nearly 140 000 people hailing from close to 60 countries. With plenty of cultural, sporting, entertainment, accommodation and travel opportunities, Darwin also boasts one of the highest employment rates in Australia, making it ideal for students to find a job. There is a constant high demand for skilled and qualified workers in business, engineering, IT, tourism and hospitality, health, education, communications and the public services sector. As I have come to know, it is also very easy for international students to find part-time jobs here.
Darwin offers a different life from other big cities. It is where Australia's urban meets the outback. And for a nature lover like me, Darwin is an amazing place to live. On the doorstep of one of Australia's most popular tourist destinations, Kakadu National Park, you don't have to go far to see crocodiles, kangaroos, wallabies, parrots and snakes. And the food in Darwin is wonderful. I love eating seafood and my favourite restaurant in Darwin is Seafood on Cullen where I often go to eat barramundi.
I am now studying a Certificate IV in Commercial Cookery. I love Darwin a lot because it has provided me with golden opportunities and helped me to become a strong and independent woman who is following her dream. My next stop in life is to open my own restaurant!