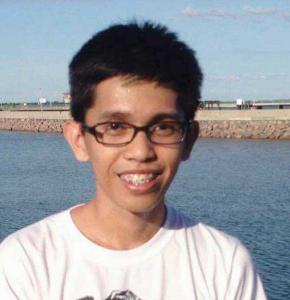 About Mark
I am from Manila, the capital of the Philippines and am the middle child among three siblings. I first learned about Darwin from a friend in the Philippines. She has a sister here in Darwin, who told her about the opportunities here in Darwin for international students. After researching about Darwin and reading about the different stories of international students in Darwin, I decided to go and study.
A person's life is too precious and short to dwell on misfortunes and I therefore appreciate the beautiful things in life. I believe that in order to have a happy and contented life, a person must find the simple things that can bring a smile on their face or make them appreciate how wonderful it is to live.
You will therefore see me around sightseeing in beautiful places, reading a book in a library, or watching a movie. Or you might find me in a coffee shop, drinking a cappuccino while listening to music on my earphones.
I can also describe myself as a big dreamer - being a great person, influencing other people to bring the best out of them. I wanted to inspire other people into action. For this reason, I always strive to do well in everything that I do, seeing every action as taking a small step towards the path to success. I also try to learn from other people's experiences and expertise.
Studying in Darwin is a great opportunity for me and for any aspiring student. Aside from the quality of education, the environment is conducive for studies and having fun. There are many places to visit if you want to have some fun after a stressing week of school work such as parks, bars, and restaurants. Also, there are lots of opportunities for a student to develop their career. The locals are also nice and friendly, which makes Darwin feel like a second home to any international student longing for the familiar comforts of home.