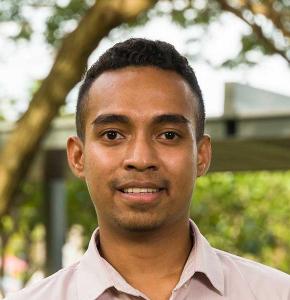 About Leonito
My name is Leonito Fatima da Costa Barros, and I am from Timor-Leste or it used to be known as East Timor.
I am currently studying at Charles Darwin University, a Bachelor of Information Technology, and it is my second semester in the first year. Studying abroad is life challenging but gives me the chance to experience something new in my personal life in terms of education, lifestyle, environment, people, and so on. I am forever grateful and glad that I can come to experience it by getting the scholarship from my government through the Ministry of Finance of Timor-Leste.
The first half of the year staying and studying in Darwin has been such a great experience for me. I am lucky to be here as in Darwin I can fulfil what I want to achieve in life not only in my study but also in my social life. Since Darwin is a multicultural city, it has given me the opportunity to meet and make friends with people from different nationalities which is truly great because it can acquaint the world through small communities.
Darwin has many beautiful tourist places that make me fall in love with nature such as the superb waterfalls and the scenic sunset. Also, people are very nice to one another. It makes me feel like I am at home and has helped me to get rid of feeling homesick, and also it is amazing for me when I can still find my local food here.