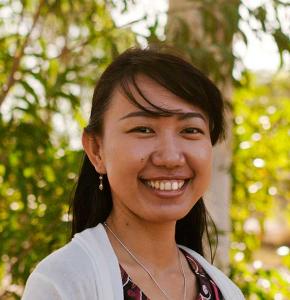 About Elvira
My name is Elvira, I was born and raised in the countryside of Java Island, Indonesia. Growing up in Indonesia exposed me to a rich cultural diversity which included music, literarture, arts, cuisine, belief practices and so much more.
When I arrived in the Northern Territory (NT) I felt quite overwhelmed by everything at first. However, I managed to overcome my insecurity by meeting a lot of new friends that I now call family. I have had the the opportunity to experience and share some of the best moments of life with.
I enrolled in the Diploma of Leadership and Management, at the Australian Career College (ACC). The teachers and staff have been very supportive, as have the leaders and congregation at Hillsong Church. Moreover, the orientation day at ACC had given me the opportunity to meet other international students whom I share common goal with; to establish our business back home once graduating from the institution.
I chose to study in Australia because it is well known that Australia has great opportunities in study and is renowned as the melting pot of multiculturalism. I love the vibrant, sophisticated, welcoming and friendly study experience in the NT.
In response to the support I have received I have been happy to give back to the community. To demonstrate my gratitude, I have been volunteering at the local church specifically with the Shine Program, the Shine Program has been designed to empower girls and woman to develop an understanding of their own personal worth, strength and purpose and realise the potential within herself to fullfil her desires in God's grace.
Living outside of my comfort zone has encouraged me in my personal growth. Although it has been challenging, furthering my education in the NT is giving me the opportunity to fulfil my life dreams, goals, and aspirations my goal is to return home with a fantastic skill set that will enable me to establish a business; I feel that my entire experience has made me a stronger and more independent woman.
I am look forward to my next life experience with great expectations.