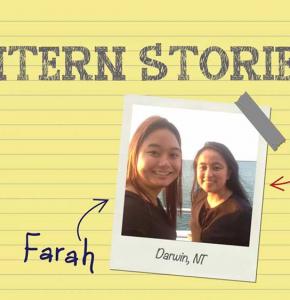 About Farah and Baz
Farah and Baz joined the Northern Territory Public Sector on a three month internship from the Brunei Government. Through the internship they experienced working in three different departments. Outside work, they experienced real Malay food, crocodiles, a wave pool and lots to do in Darwin.
Hi, my name is Baz.
And I'm Farah.
We're public servants from Brunei and in Darwin for a three month internship with the Northern Territory Government. The program involves us working with the Office of the Commissioner for Public Employment, Office of Asian Engagement and the Northern Australia Development Office.
Hey Baz! While here we've met a lot of wonderful people. We were exposed to the culture and it was really welcoming.
We learned a lot by going between the agencies - we hope that they've learned a lot from us, too!
We also got to do some fun activities that are unique to the area, like attending the Mindil Beach markets. That'll be Malay food! You miss? I was dreaming about it this morning!
Swimming at the wave pool on the Waterfront ... we're just at the wave pool now and we're going to have some fun.
And visiting Crocosaurus Cove where I got to do a turn in the Cage of Death. I'm excited. I'm not sure if I'm actually nervous I'm more excited.
Look at that crocodile! These are some amazing shots! Let me just show you it through my phone.
We had a great time in Darwin and if given the opportunity we'd love to come back.