The Territory is a strategic market for tourism investment and holds a well-established reputation as a global tourism destination. Located closer than any other Australian capital city to the fast-growing outbound travel markets of Asia, the Territory is a compelling opportunity for investors looking to expand their portfolio.
Why invest in the Territory?
The Territory is well-established as an incredibly unique destination. Our spectacular natural landscapes, rich Aboriginal culture and an abundance of history attracts increasing numbers of visitors from around the world.
In line with the 'Turbocharging Tourism' initiative, the Northern Territory Government is focusing funds into smarter tourism marketing campaigns and developing new experiences in parks and reserves to highlight the unique appeal for all travellers.
The Territory offers investors the opportunity to be part of a location with a travel market that is increasingly diversified; from corporate travel and business events visitation, to the traditional leisure market.
In 2019, just over 2 million visitors travelled to the region for one or more nights.
Total visitor numbers have recently experienced year-on-year growth that outperformed all other states and the national average, due to double digit growth from the domestic market.
The capital city of Darwin has excellent access to significant Australian and international tourism and business travel markets, all within four hours flying time from Darwin.
Darwin international airport operates 24 hours a day, seven days a week, and is the prime gateway to Asia and beyond to Europe and North America via Singapore.
The opportunity
Investment opportunities across the Territory are supported by the current tourism demand and growing corporate interest. Opportunities include:
key locations with open space and land available for green field developments, particularly in Darwin's CBD and Top End coastal areas
commercial assets for redeveloping to high quality tourism accommodation facilities
unique locations to build and expand on experiential, nature-based accommodation, immersive tourism attractions and experiences, adventure tourism, wildlife tourism and wellness retreats
opportunities to invest in existing short-term accommodation, luxury lodges, camping facilities and resorts
public private partnership in transport infrastructure projects including airports, cruise infrastructure and roads.
Boundless future
As the Northern Territory Government's Tourism Vision 2020 comes to a close, the Department of Industry, Tourism and Trade initiated the development of the Northern Territory tourism strategy 2030. This plan sets out the strategic direction for industry development over the next decade. This framework has been co-developed with industry and government and is designed to unite efforts across the public and private sectors.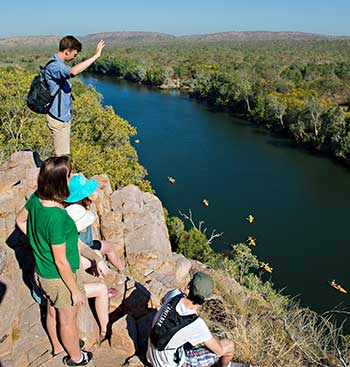 Related investment opportunities
Related information