Renewable energy represents a key priority for the Territory Government, which has set a policy of achieving 50% renewables for electricity supply by 2030, whilst maintaining secure, reliable and least-cost electricity for consumers and taxpayers.
A high percentage of electricity supply in the Territory is from gas-fired generation, with less than 10% renewables. There are ample investment opportunities to help drive the state towards a sustainable energy driven future. The Roadmap to Renewables policy supports opportunities for the renewable energy industry to grow in the Territory.
Why invest in the Territory?
Solar is the most widely used renewable energy resource for power generation in the Territory due to the well-suited climate and geography. The solar resource is progressively greater in locations south of Darwin due to comparatively less cloud cover in the wet season.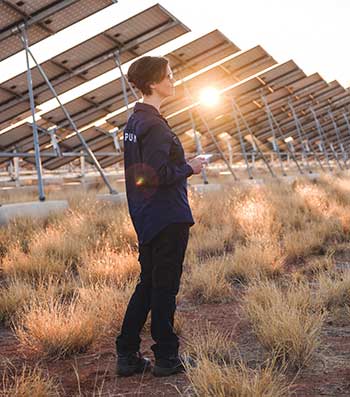 The Territory has the largest multi-technology solar demonstration facility in the southern hemisphere located in Alice Springs at the Desert Knowledge Australia's Solar Centre. Desert Knowledge Australia is also home to the Intyalheme Centre for Future Energy. This renewable energy hub has been established to share knowledge, educate and engage with the community, and facilitate industry partnerships and technology commercialisation.
The opportunity
The Territory is in a unique position to influence the uptake of renewable energy, creating a transparent and commercial environment for investment within this growing sector.
The Territory will unlock opportunities for new and emerging technologies that will lower costs and allow an orderly transition from the current ageing generator capacity.
In order to achieve more renewables in energy supply, opportunities will exist for new large-scale renewable generation and energy storage in the Darwin-Katherine power system.
The Territory has a distinct advantage with its proximity to Asia, providing long term opportunities for accessing the market with new energy-based products.

Australia has the highest average solar radiation per square metre of any continent in the world, with the strongest of these residing in the Territory, with an average annual solar radiation of 22 to 24 MJ per square metre.
Boundless future
The Territory Government is actively working with the renewables sector and its service industries to develop a robust renewable energy industry strategy that will facilitate growth of the sector in the Territory.
The Territory will be globally recognised for its pioneering capability related to the development, deployment, operation and maintenance of off-grid and remote renewable energy systems.
Related information