With over AU$200 billion of capital investment in the oil and gas sector over the last decade, Australia is now a major player in the global energy market, recently highlighted by the crowning title of world's leading producer of liquefied natural gas (LNG).
In Australia's north, Darwin has emerged as a key LNG export hub with the recent commissioning of the US$34 billion Ichthys LNG Project to complement the ConocoPhillips-operated Darwin LNG Plant. Darwin is now home to three LNG trains, and is the service and supply centre for world-first Prelude Floating LNG project in the Timor Sea.
With a suite of expansion opportunities in the oil and gas sector, Darwin will continue to play an important role in providing energy security for Australia and its strategic partners throughout Asia.
Why invest in the Territory?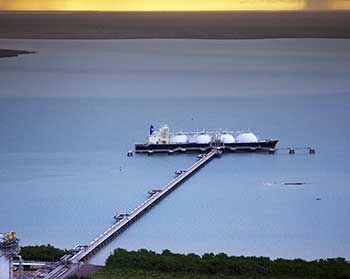 Darwin holds many strategic advantages for growing its oil and gas industry. Situated on a world‑class harbour and proximate to rapidly growing markets throughout Asia, Darwin is also home to an educated and highly-trained workforce ready to service growth in the oil and gas industry. However, it is the vast, untapped offshore and onshore oil and gas fields that offer the most promise.
Darwin's LNG plants are fed by the reserves that lie offshore from Darwin in the Timor Sea. With a further 30 trillion cubic feet (Tcf) gas in proven offshore reserves yet to be developed, the immediate opportunity for life-extension and expansion of existing LNG plants is real. There is also scope within the Darwin Harbour development envelope for greenfield industrial developments including new LNG plants.
However, the under‑explored onshore shale resources of the Territory offer potentially the greatest opportunity. Compared to the enormous and transformational shale plays of the USA, the Beetaloo Sub‑basin spreads over more than 25,000 square kilometres of prospective unconventional shales within multiple-stacked petroleum plays. Exploration to date indicates a 'P50 gas‑in‑place resource' of at least 500Tcf in one shale layer alone.
Further exploration works are planned to prove‑up this new gas province, which may underwrite investment in expansion of LNG exports, a new gas‑based processing and manufacturing industry, and delivery of gas to industrial and retail customers in eastern Australian markets.
The Territory Government's vision for the Northern Territory (NT) to become a world‑class gas production, manufacturing and services hub by 2030, is being implemented through the NT Gas Strategy and the 5 Point Plan, which is to:
expand the world‑scale Darwin LNG Hub
grow the Territory's service and supply industry
establish gas‑based manufacturing
grow local research, innovation and training capacity
contribute to Australia's energy security.
The opportunity
Immediate prospects for continued growth of the Territory's oil and gas sector include:
a new downstream petrochemical precinct in Darwin Harbour which may include:

condensate refining
production of ethane‑based petrochemicals
manufacturing of methane‑based products including methanol, ammonia and ammonium nitrate, urea, other fertilisers that use local phosphate deposits
energy intensive industries
the fast‑emerging hydrogen industry

infrastructure development to support onshore gas development supply chains service and supply opportunities
onshore petroleum acreage releases by the Territory Government
development of proven, but undeveloped offshore gas fields
partnering with junior to mid‑tier onshore petroleum explorers with substantial land packages. Potential investment scenarios include acquisition, equity investments, joint ventures and farm-in arrangements.
Boundless future
The Territory Government continue to develop, grow and diversify the Darwin gas hub by increasing overseas LNG exports and interstate gas supplies, attracting gas-based manufacturing and expanding service and supply capabilities.
Related investment opportunity
Related information