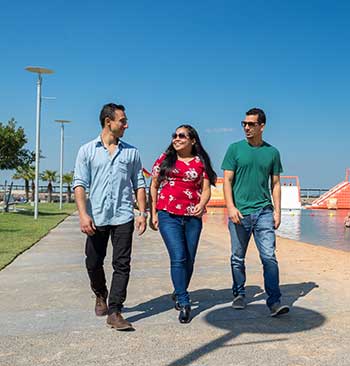 International education and training (IET) is an important contributor to the economy in the Territory. Worth $113 million in 2018, it is the third largest service export and eighth largest export overall, supporting nearly 800 jobs in the Territory. IET contributed over AU$35 billion to the Australian economy in 2018.
Australia is the third most popular destination in the world for international students, after the US and UK.
The Territory Government has identified IET as a growth sector in the Economic Development Framework.
The Territory offers high-quality Australian qualifications across higher education, vocational education and training, English language and schools.
Why invest in the Territory?
The Territory is an increasingly popular and attractive choice for international students, with its warm climate, international connectivity, opportunities for work experience and affordable cost of living.
Establishing the Territory as an international study destination is a priority for the Territory Government. With a key focus on developing educational investments in infrastructure and support services for international students such as introducing direct flights to and from Asia.
Enhanced investment opportunities exist in the Territory's IET industry, with the significant global demand for Australian skills and qualifications and Territory businesses keen to employ international students.
The opportunity
There are substantial opportunities to invest in IET campuses and training facilities through:
new education and training facilities
joint venture or co-location with other education providers
purpose-built student accommodation to meet growing student numbers.
Boundless future
The Territory Government is dedicated to support the IET industry and achieve step change in international student numbers, with a target of four-fold growth identified in the Northern Territory international education and training strategy 2019-2025.
This growth target is expected to return $332 million in export revenue by 2025.
Goal: To grow the number of international students studying in the Territory to 10 000 by 2025.
Pillar 1: enrich the Territory international student experience.
Pillar 2: showcase the Territory as a study destination.
Pillar 3: strengthen and grow the Territory international education and training industry.
The foundations are set for IET to become one of the primary contributors to the Territory's economy, with favourable investment provisions paired with strong government support to continue to grow the industry.
Related investment opportunity
Related information