The Northern Territory is experiencing solid growth in visitor numbers, driven by a diverse economy. With incoming investment accelerating the potential of the region, the Northern Territory is poised for even further growth. Investing in its tourism sector now provides a strategic opportunity to position your business in the Northern Territory and ride the wave of prosperity.
The capital city of Darwin is situated on the doorstep to Asia, closer than any other Australian capital city. Within a two hour drive of Darwin is the internationally renowned Kakadu National Park, listed as UNESCO World Heritage for its unique natural environment and its living aboriginal culture. Situated on the shores of the Darwin Port, the Darwin Convention Centre is a well-equipped, modern facility within easy access of accommodation, restaurants and retail precincts.
At the physical heart of Australia and framed by the picturesque MacDonnell Ranges is Alice Springs, a modern outback town with a modern convention centre, boutique casino and over 1150 hotel rooms,1 just three hours flying time from most major ports. West of Alice Springs, and directly accessible by air through the resort town of Yulara, is undoubtedly Australia's most famous icon Uluru (Ayers Rock). The region includes the UNESCO World Heritage listed Uluru Kata Tjuta National Park, attracts 367 000 visitors annually.2
The Northern Territory is experiencing solid growth in business visitor numbers responding to the Territory's strong performing economy, and visits by leisure tourists to central Australia continue to grow. Located in close proximity to the fastest growing outbound travel market in the world, the Northern Territory is advantageously located to capture tourism from international markets, particularly within Asia.
Current activity
The Northern Territory Government is investing over AU$200 million in tourism marketing and infrastructure over the next five years. This investment includes the development of an Iconic National Indigenous Art Gallery and Cultural Centre in Alice Springs, a AU$50 million museum for the Northern Territory in Darwin and a AU$100 million rejuvenation for Darwin's central business district. The aim is to expand the tourism economy to AU$2.2 billion by 2020 through collaborative efforts across industry and government.
Pivotal to this success is private investment in new and enhanced tourism experiences. Recent highly successful investments such as the Landbridge Group's investment in a AU$200 million luxury hotel located on the Darwin waterfront, Baillee Lodges' investment in the luxury accommodation property, Longitude 131 at Uluru, a AU$20 million plan by the Landbridge Group to double the capacity of the Darwin Cruise Terminal and the Royal Flying Doctor Service's Bombing of Darwin Harbour attraction at Stokes Hill Wharf, highlight the growth potential of the Northern Territory's unique appeal.
In 2016, just over 1.8 million visitors travelled to the Northern Territory for one or more nights. Their purpose of visit is summarised below. It should be noted that there are distinct differences in the visitor market profiles for the Top End of the Northern Territory versus that of Central Australia3.
Purpose of overnight visits to the Northern Territory (2016)4*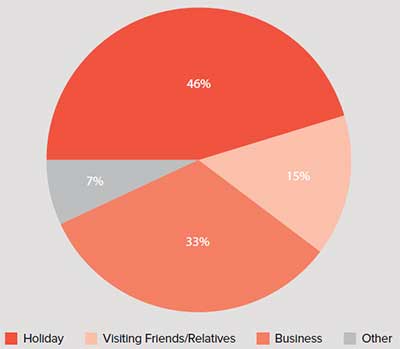 Overnight source markets for the Northern Territory (2016)4*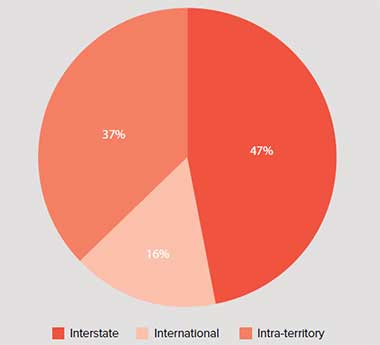 The majority of the overnight visits to the Northern Territory are from Australians, with the interstate market in particular providing the largest source.
The Northern Territory is a well-established business events destination attracting events from a range of key industries including education, defence, health and mining. In 2016, the Territory's business events sector was estimated to generate an estimated 44 000 accommodation room nights, attract over 17 000 visitors, and contribute over AU$43.3 million to the Darwin and Northern Territory economy6. In 2015, the Darwin Convention Centre, a centrepiece of the Darwin Waterfront precinct, hosted over 170 conventions and events attracting 10 000 domestic and international delegates.
Cruise ship visits to Darwin are also significantly growing in size. Forty-seven cruise ships are estimated to visit the Top End in 2016-17 with the capacity to carry approximately 60 000 passengers and crew, resulting in the largest cruise season on record.
Competitive aviation access and services
As Australia's northernmost capital and within five hours flight time of 400 million people in Asia, Darwin is positioned to become the nation's northern aviation gateway to Asia and the world. In the next 20 years, the Darwin International Airport expects passengers through the airport to grow from two to six million.
The terminal at Darwin International Airport is open 24 hours a day, 7 days a week, catering to both international and domestic flights. A $75 million terminal expansion and upgrade has doubled its capacity to service future growth and the opening of the 'Catalina' international lounge in September 2016 has improved services and appeal for full-service international airline partners.
Advantages that set the Northern Territory apart
Areas of outstanding natural beauty with a global reputation.
Home to two of Australia's most famous UNESCO World Heritage locations, Uluru-Kata Tjuta and Kakadu National Park.
Pristine coastline and outstanding inland aquatic experiences.
Diverse wildlife with opportunities for safe interaction.
Panoramic open spaces under a clear, expansive sky.
A cosmopolitan capital city close to key Asian markets with a modern, efficient international airport with good access and frequency with all Australian capital city markets.
Unique opportunity to experience Australia's Aboriginal culture.
Diverse range of tourism investment opportunities including 'greenfield' development opportunities of high quality accommodation and tourism attractions.
Opportunities for investors
Strategically positioned close to Asia, the Northern Territory is a competitive destination for investors looking to expand their tourism portfolio. Opportunities exist in urban areas like Darwin that offer easy access to spectacular coastal settings, as well as in inland areas with excellent access to beautiful and impressive landscapes.
Opportunity: Alice Springs Hotel Development
Tourism NT seeks to attract investment to develop new tourism accommodation in Alice Springs, Central Australia. This is in response to the growth in demand for visitor accommodation from leisure and business events visitors to Alice Springs and the surrounding area. Alice Springs, the third largest town in the Northern Territory, with a population of approximately 28 000, services a total regional population of 41 000. Alice Springs is the major economic, business and service hub for the Central Australia region, and also services parts of South Australia, Western Australia and Queensland. The economy is sustained by mining, tourism and primary industries and is underpinned by government funding for regional service delivery and defence. Several sites are available for consideration.
Opportunity: Lee Point Urban Coastal Tourism Development
The Northern Territory Government is looking to work with the private sector to develop the Lee Point area to include high quality tourism accommodation facilities in a main street format, with attractive view lines along the coast and to the sea. This prime, underdeveloped coast line is located just 14kms from Darwin CBD, bounded by Casuarina Coastal Reserve, and is highly accessible to Darwin International Airport, Charles Darwin University, Royal Darwin Hospital and Casuarina Shopping Centre.
Opportunity: Regional nature based tourist facilities
Experiential accommodation lodges and attractions are popular with an increasingly sophisticated travellers in Asia. The Northern Territory offers unique locations ideal for the inquisitive traveller; such as the Red Mallee investment opportunity to create a luxury, nature-based resort atop a ridge at the apex of two gorges, overlooking the spectacular Palm Valley catchment in Central Australia. The government will work closely with investors to facilitate access to these sites for construction of bespoke tourism accommodation and attractions.
The combination of the Northern Territory's close proximity to Asia and the Territory's myriad of natural and outdoor attractions, substantial scope exists to attract Asia's growing middle classes.
1. Tourism NT, Alice Springs Monthly Accommodation Report March 2017, data sourced from STR Global
2. Tourism NT, Quickstats Report: Year Ending December 2016, derived from Tourism Research Australia's NVS and IVS December 2016
3. Further information is available at http://www.tourism.australia.com/en/markets-and-stats/tourism-statistics/international-visitor-arrivals.html
4. Derived by Tourism NT from Tourism Research Australia, NVS and IVS December 2016
6. Estimates are derived from bookings monitored by Tourism NT and are not a census of all business events in the Northern Territory
* Figures in this chart may not total 100% due to rounding.