The Northern Territory is uniquely placed to respond to this rapid growth and consequent demand for services such as research and education due to its location in the tropics and its world class expertise in delivering research and education developed in and suited to the tropical environment.
Research
Health and environmental sustainability are of critical importance to the expanding and developing economies of tropical regions of Asia, Africa and South America, and both areas are major areas of research strength for the Northern Territory's Charles Darwin University. Charles Darwin University is a research intensive university ranked in the top 2% of universities in the world, and in the top 50 universities in the world under 50 years old.
The Australian Government's white paper on Developing Northern Australia puts a focus on tropical health and research, proposing various initiatives and funding commitments to support the development of the tropical health and research industry in northern Australia. They include the establishment of a major Cooperative Research Centre, likely to include the involvement of commercial partners.
Charles Darwin University's Menzies School of Health Research undertakes world class research in the prevention and treatment of infections of major public health importance throughout the Asia-Pacific region and northern Australia such as malaria, tuberculosis, melioidosis, staphylococcal and streptococcal disease, rheumatic heart disease, pneumococcal disease, influenza and Hepatitis B. Menzies-led research in malaria, conducted in more than 20 countries across the Asia Pacific region, has saved thousands of lives. Menzies also has expertise in mental health, nutrition, substance abuse, child health and development and chronic diseases and has established research links in over 20 Asia Pacific countries.
There is potential for future investment in treatments for tropical diseases that will have profound benefits for the region. The research strengths of Menzies School of Health Research could form the focus for development of an international training centre for tropical medicine practitioners.
Charles Darwin University has also established world class expertise in tropical environmental science and management. Through the University's Research Institute for the Environment and Livelihoods (RIEL) researchers work on multi-disciplinary and trans-disciplinary research projects integrating natural, physical, spatial and social sciences to explore the complex interconnections between social and environmental systems.
RIEL research develops new knowledge to understand ecological functions and processes of tropical ecosystems, inform decisions by government, industry and the community about best practice natural resource management, and underpin innovation in developing more sustainable technologies, policies and approaches. These types of knowledge will be essential in helping developing economies achieve sustainable land management, and enhance livelihoods and industries in small communities.
Developing research expertise such as engineering in tropical environments and in social policy are additional areas where Charles Darwin University can contribute to the knowledge base necessary for regional development.
Research expertise in the Northern Territory Department of Primary Industry and Resources in areas such as agriculture, tropical horticulture, aquaculture and beef cattle management provide additional depth in Northern Territory based knowledge to solve practical real life issues in these areas. Enormous opportunities exist in the future development of agriculture, tropical horticulture and beef cattle management both in the Northern Territory and in the Asia Pacific region.
National Critical Care and Trauma Response Centre (NCCTRC)
The Australian Government established the NCCTRC in Darwin in 2005. The NCCTRC is ready to respond to incidents that involve significant health threats to the population, and undertakes a research program to support its operations. The NCCTRC disaster medical research program includes three primary themes including maximising the ability of staff to respond to disasters in tropical climates, improving disaster response capabilities, and improving management of information on disasters.
The NCCTRC collaborates with multiple agencies in an effort to deliver practical improvements in disaster medical response.
The NCCTRC is developing a widely acknowledged reputation for disaster research that is directly relevant to the northern region and to tropical neighbours.
The NCCTRC is also funding a Tuberculosis (TB) research program in Timor Leste which aims both to establish the prevalence and identify the strains of TB.
The NCCTRC has become a local, national and international North Australia success story, and is a key component of the Australian Government's disaster and emergency medical response capabilities, as well as an important asset for the Northern Territory. The location of the NCCTRC in northern Australia ensures national preparedness to respond to major onshore and offshore incidents in Australia and South East Asia.
International education and training
The international education and training sector is Australia's third and the Northern Territory's tenth largest export sector. International education is not only an important export market for the Northern Territory, it builds important links, relationships and partnerships with regional neighbours throughout Asia, which is a growing international education market for the Northern Territory.
The Northern Territory Government is focused on establishing the Northern Territory as an international study destination and education hub, developing new educational investments in infrastructure, and supporting services for international students such as direct flights to more Asian destinations.
The Northern Territory's Charles Darwin University is a dual sector university offering both Higher Education and Vocational Education and Training (VET) in a wide range of disciplines and from Certificate level through to Bachelor and postgraduate PhD degrees.
Charles Darwin University has doubled its international student intake over the past decade and has established effective links and partnerships in research and education throughout Asia. For example, Charles Darwin University is host to a Confucius Institute, established to strengthen education and cooperation between China and Australia. The university provides a safe, welcoming environment and excellent amenities for its international students, with state of the art teaching and learning facilities. At Charles Darwin University international students from Asia have the benefit of studying in a world class environment very close to home.
The university's established track record as a world leading, successful online education provider presents particular opportunities for investment. Around 75% of the university's Higher Education students study online and there is potential for significant expansion of VET programs into the online space, supported by Australia's National Broadband Network.
Charles Darwin University was the first Australian university to have its Bachelor of Engineering accredited by the Europe-based EUR-ACE®, an internationally recognised system that facilitates academic and professional mobility.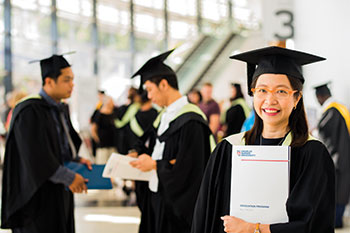 As evidence of Charles Darwin University's performance in the international education space, it won the Austrade National Export Award for excellence and innovation in international education for its sustained international growth strategy in 2014 and has won the Department of Foreign Affairs and Trade - Education and Training Award at the Chief Minister's Northern Territory Export and Industry Awards in both 2015 and 2016.
Charles Darwin University offers well established VET, higher education and state of the art research facilities through the North Australian Centre for Oil and Gas. Providing a one stop for industry and building the skills and capacity of local and regional workforce.
Trauma and disaster training
Training and education are key priorities for the National Critical Care and Trauma Response Centre (NCCTRC). The NCCTRC training program offers many diverse opportunities across a broad range of specialties, representing a major investment in trauma and disaster training for clinicians across Australia, South East Asia and Pacific countries.
The aim is to enhance preparedness through the provision and delivery of teaching, training and practice throughout the region whilst maintaining Ready Response teams on standby, equipped to rescue and resuscitate victims of disasters, and where appropriate, assist in their coordination and repatriation to centres across Australia.
In 2015, the NCCTRC offered approximately 1200 education places across a range of nationally and internationally recognised courses, including the suite of Australian Medical Assistance Team training packages. The NCCTRC's unique education and training packages focus on simulated environments to complement classroom teaching.
To date, Australian Medical Assistance Team (AusMAT) courses have seen more than 600 doctors, nurses and health logisticians trained to a national standard as medical disaster responders.
The NCCTRC is a key partner in the development and publication of the World Health Organisation Standards and Classification guidelines for foreign medical teams. The NCCTRC's collaboration with the NZMAT1 program has enabled its partners in NZ Health2 to develop an additional and valuable standing medical capability for the region. The NCCTRC has been an active participant in improving understanding of disaster response frameworks throughout South East Asia.
Advantages that set the Northern Territory apart
Established world class research, education and training capabilities.
Safe and welcoming environment for international students.
Closer proximity to Asian nations than other educational institutions in Australia.
Quality accommodation and flexible work options for international students.
Specialist research and education in oil and gas production, tropical medicine and tropical agriculture.
Opportunities for investors
Commercialisation of research
Opportunities exist in the development of treatments for tropical diseases, as well as advances in sustainable land management and agriculture, horticulture and aquaculture processes and outputs, as well as in engineering solutions for the tropics.
Regional training centre
Given existing infrastructure and education capability, the Northern Territory is poised to become an international regional education and training hub for Asia, enhanced by its location on Asia's doorstep, its existing links with Asian neighbours and its tropical expertise and know-how.
Online / distance education
Charles Darwin University is a dual-sector university with 8500 students studying online. With the internet infrastructure for online education in place, supported by the fibre optic National Broadband Network which has been installed in Darwin, the foundations are set for a significant expansion of an online offering from the Northern Territory.
1. NZMAT refers to New Zealand Medical Assistance Team
2. NZ Health refers to New Zealand Health