Business hours here are conveniently in line with Asia's working day, sitting in a two hour time corridor with major cities such as Beijing, Hong Kong, Jakarta, Manila, Seoul, Singapore and Tokyo.
Trade, investment and cultural links with Japan, China and Indonesia are strong and long-standing.
Robust and quality infrastructure
Darwin has exceptional connectivity and offers all the facilities, infrastructure and services of a progressive modern city including:
An established 24 hour international airport which provides a gateway to Asia and the world with direct international flights to Singapore, Kuala Lumpur, Manila, Bali / Denpasar and Dili.
A port precinct with a natural deep water harbour, dedicated berths for bulk liquids, minerals and container freight, a marine supply base for offshore support vessels, and established shipping services.
Connections to the national rail network.
National highway links.
High speed broadband communications network.
The Royal Darwin Hospital, home to Australia's National Critical Care and Trauma Response Centre.
Charles Darwin University, offering higher education and vocational training with campuses in Darwin, Palmerston and Alice Springs, and part of a sophisticated research community within the Territory.
An established and growing supply and services industry.
Significant tourism infrastructure and services including major hotels and iconic attractions.
Major defence force bases, home to approximately 8% of Australia's permanent defence force personnel.
A stable system of government
The Northern Territory Parliament is a unicameral parliament based on the Westminster System and the legal system of the British Commonwealth. Twenty-five members of the Legislative Assembly are elected to four-year terms from single-member electorates. The Chief Minister of the Northern Territory is the head of government of a self-governing territory and is generally the elected leader of whichever party holds the majority of seats in the Northern Territory Legislative Assembly. The Northern Territory is represented in the Commonwealth Parliament by two Members in the House of Representatives and two Members in the Senate.
A commitment to developing Northern Australia
For many years the Northern Territory has been pursuing a vision for Northern Australia as the focus for Australia's future economic development.
Map of greater Darwin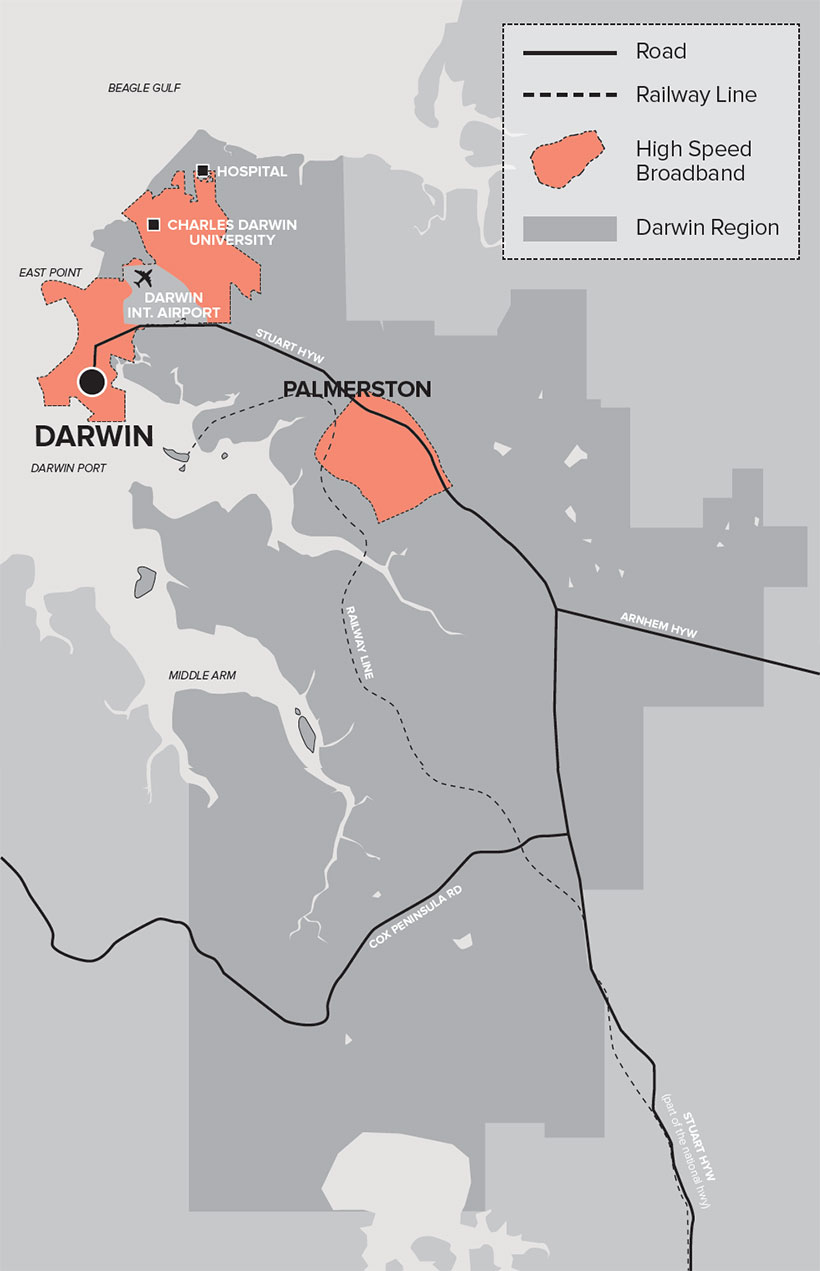 In response to this, the Australian Government is now placing high priority on Northern Australia as integral to Australia's further economic development, long-term security and regional engagement.
The White Paper on developing Northern Australia identifies Darwin as the regional centre for Northern Australia.
In focusing on Northern Australia, the Federal Government is seeking to streamline and simplify cultural heritage, land and trade regulations, and support northern industries including fisheries, cattle, horticultural trade, mining and tourism.
It is likely that, over time, these changes will expedite access to land and improve investment potential for business, while also increasing the opportunity for economic advancement for Indigenous communities and existing tenure holders.
Climate
The Northern Territory lies across two climate zones: the tropical and the semi-arid. Two-thirds of Australia's rainfall falls on the northern one-third of Australia.
The tropical north, including Darwin, Katherine, Kakadu and Arnhem Land, has two distinct seasons: the Wet (monsoon) from November to April and the Dry from May to October. Temperatures typically range from 21ºC (70ºF) to 33ºC (91ºF). Humidity levels can range from 10% to 80% across the seasons.
Central Australia, including Alice Springs, Tennant Creek, the Barkly Tablelands and Uluru / Kata-Tjuta regions, has a semi-arid climate. In summer (December to February), average temperatures range between 20ºC (68ºF) and 35ºC (95ºF). In winter (June to August), the average temperatures range between 3ºC (37ºF) and 20ºC (68ºF). Spring and autumn in Central Australia see warm days and cool evenings.
Population
The Northern Territory's current population is approximately 245 000 with almost 145 000 living in the Greater Darwin area. Over 70% of the population is concentrated in five major centres: Darwin and suburbs, Alice Springs, Palmerston, Katherine and Nhulunbuy.
By 2060, the Northern Territory is projected to have a population of 450 000 with greater Darwin rising to 225 000.
The multicultural population of the Northern Territory has roots in countries across Asia, contributing to easy communication in many languages. People from the region feel at home here.
People speaking an Asian language at home based on 2011 census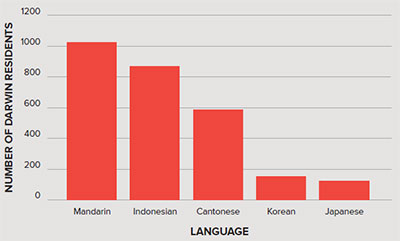 The unique location, geography and demography of the Northern Territory demands innovative solutions and fosters a culture of ingenuity. It inspires those who are bold, ambitious and innovative by nature: those with a determination to build, create, transform and challenge conventional thinking. Such diversity of people creates a diversity of thinking.
Moving quickly maximises investment opportunities
By 2050 it is likely that Asia will be home to three of the world's largest economies (being China, India and Indonesia)1. The Northern Territory economy provides Asian investors with the potential to gain a first mover advantage in a competitive Foreign Direct Investment market that is dynamic, rapidly changing and seeking greenfield opportunities.
The Northern Territory is unique in being an emerging regional economy with enormous untapped potential, while also having a sophisticated business regime and a government with the capacity to "see over the horizon".
The Northern Territory actively welcomes the contribution investment can make to the economy, and accordingly works hard to make things easy for business. Potential investors are attracted by the government's open and enthusiastic attitude, a framework conducive to profitable investment, and a process characterised by speed, transparency and results.
This stable, well-functioning environment has achieved substantial and strategic international investment outcomes over the last decade, as illustrated on the preceding timeline.
1. Source: http://monitor.icef.com/2015/03/global-economic-power-projected-shift-asia-emerging-economies-2050/