The opportunity
There is unprecedented opportunity to invest in the growing space industry of Australia's Northern Territory, specifically in:
launch facilities - both rockets and stratospheric ballooning
ground station systems
technology development and testing infrastructure.
With the development of Australia's first commercial space launch facility, Arnhem Space Centre, and other significant space infrastructure progressing rapidly, there will be opportunities right along the satellite and launch supply chain. This includes small satellite manufacturing and ground systems for small satellite networks, to data collection, analysis and provision of value-added services.
The Territory's geography and environmental conditions have supported its establishment as a hub for ground station infrastructure and stratospheric ballooning, with great potential for technology development and testing.
Why the Territory
The Territory's geographic location provides a host of benefits for launch facilities, ground stations and technology development and testing facilities due to its:
southern hemisphere location and proximity to Asia (well placed to host ground station systems)
proximity to the equator (creating cost efficiencies for launch operators and their customers)
low population (supporting safe and efficient launch and payload recovery)
clear skies for much of the year, with low light pollution and limited noise interference
ideal wind conditions for stratospheric balloon launches.
With established logistics and construction industries, the Territory is capable of supporting the development of space infrastructure, including in remote locations.
Boasting a highly-skilled workforce servicing the oil and gas, mining and defence sectors, the Territory has the professional, technical and safety expertise required to support development of complex space facilities.
Industry snapshot
The Territory is already home to existing and forthcoming globally significant space infrastructure including:
Equatorial Launch Australia's Arnhem Space Centre: Australia's first commercial launch facility, from which NASA plans to conduct a sub-orbital sounding rocket campaign.
NASA's Alice Springs Ballooning Facility: managed by Australia's national science agency CSIRO, the facility regularly hosts international space agencies for scientific ballooning campaigns.
Geoscience Australia's Alice Springs ground station: part of the Landsat Network.
Viasat's Real-Time Earth Facility: the US multinational has chosen Alice Springs as the location for expansion of its Real-Time Earth ground station network.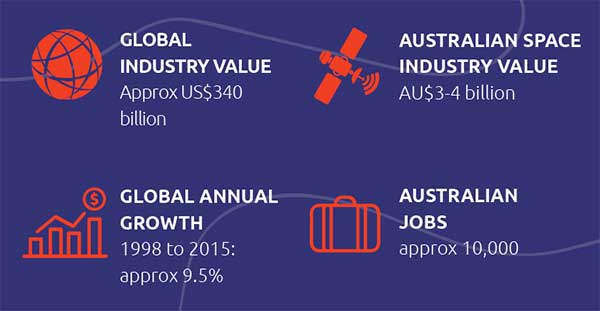 Australia's Northern Territory is the ideal place to meet the future demands of the space industry.
Disclaimer: This web page includes information provided by third parties. The information is general in nature and is for information purposes only. The Northern Territory Government makes no representation about the veracity or accuracy of information provided by third parties. You must rely on your own due diligence before proceeding. You should consider seeking independent professional advice.