Project description
Darwin is strategically located near globally significant offshore oil and gas resources and highly prospective onshore plays. Darwin currently hosts several world-class oil and gas projects, making it ideally placed for those seeking to invest in and deliver supply and support services.
Sustained growth of the Northern Territory's oil and gas industry has established Darwin as Northern Australia's oil and gas operations and maintenance hub. Darwin has extensive infrastructure, networks and the expertise to support offshore resource projects that service Australian and international energy demands. By the end of 2018 four LNG trains capable of producting over 15 million tonnes per annum will be serviced from Darwin.
Beyond 2018, further opportunities are likely to emerge through the development of known offshore fields for the backfill and expansion of Darwin's onshore LNG facilities, and a ramp-up of exploration and development of onshore resources.
This has created a diverse range of services and supply related investment and business development opportunities - especially in the areas of health, safety and environment; offshore drilling; application of remotely operated vehicles; turbine, large electric motor, wellhead and processing equipment maintenance and service of floating liquefied natural gas (FLNG) and floating production storage and offloading (FPSO) technology.
The Darwin oil and gas service and supply sector is supported by the North Australian Centre for Oil and Gas (NACOG) - a dedicated research, education and training hub that targets the specific needs of oil and gas developments and operations in the region, and recent Northern Territory Government major development initiatives that include:
an operational, purpose-built marine supply base and integrated logistics centre that has capacity to supply and service projects in the Timor Sea, the Bonaparte Basin and the Browse Basin - including the new Shell Prelude FLNG vessel and INPEX Ichthys Central Processing Facility
a $100 million plus ship lift and marine industries project that is currently in the front end engineering design phase and targeted for operational by 2021, providing the capacity for maintaining and servicing a wide range of vessels.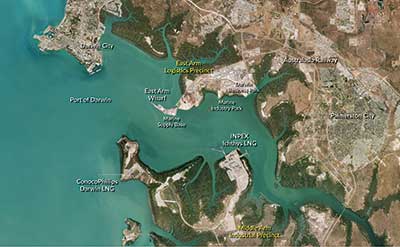 A wider range of service and supply related investment and business opportunities will increasingly emerge as Darwin's new LNG trains begin production and new offshore and onshore fields are developed.
Disclaimer: This web page includes information provided by third parties. The information is general in nature and is for information purposes only. The Northern Territory Government makes no representation about the veracity or accuracy of information provided by third parties. You must rely on your own due diligence before proceeding. You should consider seeking independent professional advice.