Project description
The Territory is ideally placed to host key infrastructure and services for Australia's space industry, including:
ground station systems
launch services
downstream space industries.
Developing a local space industry complements the Territory's existing defence, aviation, land and marine management sectors.
Industry snapshot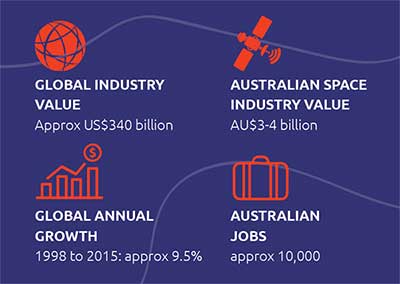 Space is a fast-growing and competitive commercial sector. Falling launch costs, smaller, lighter and cheaper satellites, and increased commercial applications for space-related technology are driving a new wave of private investment in the space economy. 
The Australian Government recently established the Australian Space Agency to grow the Australian space industry, support the long-term development and application of space technologies and secure Australia's place in the global space economy.
The Territory's competitive advantage
The Territory's southern hemisphere location and proximity to Asia make it an ideal access point for global space industry supply chains.
With clear skies for much of the year, low light pollution and limited noise interference, the Territory is well placed to host ground station systems.
The Territory has a geographical advantage for launch sites due to its:
proximity to the equator (creating cost efficiencies for launch operators and their customers)
tectonic stability (low risk of earthquakes)
vicinity to the sea and low population (supporting safe and efficient launch and payload recovery).
The Territory also has strong earth observation capabilities, undertaking world-leading rangeland mapping and fire monitoring using data from the Landsat and Sentinel satellites.
The Territory has a demonstrated capacity to develop emerging industries and host niche high-tech strategic operations.
Our established logistics and construction industries are well suited to support the development of ground systems and launch facilities, including in remote locations.
With extensive capabilities servicing the oil and gas, mining and defence sectors, the Territory's workforce has the professional, technical, safety and security expertise required to work on sensitive or complex space facilities.
The Northern Territory Government is ready to work with investors, local industry and other jurisdictions to realise Australia's vision to secure a greater share of the global space economy.
Disclaimer: This web page includes information provided by third parties. The information is general in nature and is for information purposes only. The Northern Territory Government makes no representation about the veracity or accuracy of information provided by third parties. You must rely on your own due diligence before proceeding. You should consider seeking independent professional advice.