The opportunity
Central Australia offers a unique combination of sunshine, low humidity, cool winter temperatures and freedom from pests and diseases. These conditions support production of table grapes, melons, mangoes, figs, olives, bush foods (Australian native plants) and vegetables. Fodder is also grown to support the local cattle industry.
There is potential for a diverse range of new crops including stone fruits, nuts, temperate and subtropical fruits and ornamental flowers. Potential investors have the ability to develop greenfield projects as sole traders or in partnerships on a range of land tenures including freehold, pastoral lease or in partnership with Traditional Owners on Aboriginal freehold land.
Why the Territory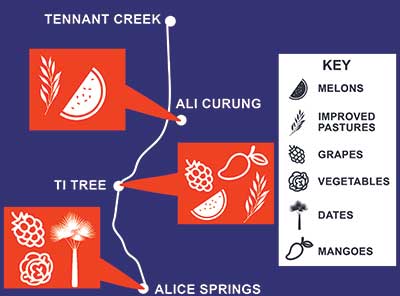 The soils of Central Australia are highly suited to horticulture production, and underground water is available for irrigation.
The geographic isolation of the region provides a natural barrier to pests and diseases, offering growers a competitive advantage from natural biosecurity management.
The Northern Territory Government actively supports the development of new horticulture projects in the Central Australian region through policy, extension and research programs.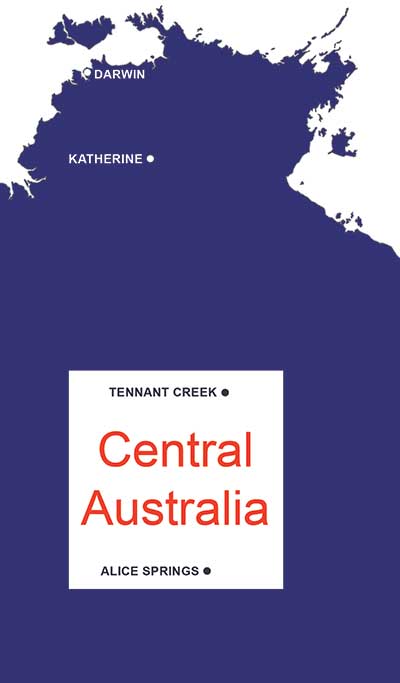 Five plant industry precincts with suitable soil and water have been identified - Alice Springs , Ti Tree and Western Davenport. The Tennant Creek and Great Artesian Basin precincts are priorities for future development.
Supply chain
Central Australia is connected north to Darwin and south to Adelaide via road and rail, providing for safe and efficient transport of produce to domestic markets. Cold storage facilities at the Darwin port and airport enable direct international market access.
For the full prospectus go to the Department of Primary Industry and Resources website.
Disclaimer: This web page includes information provided by third parties. The information is general in nature and is for information purposes only. The Northern Territory Government makes no representation about the veracity or accuracy of information provided by third parties. You must rely on your own due diligence before proceeding. You should consider seeking independent professional advice.