Project description
The Northern Territory (the Territory) has a large population of feral donkeys which are considered pest animals. There is only limited demand for donkey products in Australian domestic markets.
There is strong demand for donkey meat and gelatin (ejiao) from China. Feral donkeys could be captured and used as part of a foundation herd to establish a commercial donkey farming industry in the Territory. Donkey farming could be a stand-alone business or a complimentary venture operated in conjunction with cattle production. In the longer term selective breeding and introduction of genetics may be required to obtain the necessary product characteristics.
At present there is no operational protocol for export of donkey meat and hides to China. This would need to be resolved for the industry to develop. It is understood that the Australian Government Department of Agriculture and Water Resources is currently in discussion with People's Republic of China State Administration of Quality Supervision, Inspection and Quarantine on this issue. However, resolution is likely to take some time.
The Northern Territory Government has recently published a draft assessment on the potential for donkey farming including a gross margin analysis, ie the gross income produced less the variable costs of production. The analysis serves as a guide to the relative profitability of different donkey farming options, as well as beef cattle farming. This is available online, read Donkey farming (currently in English only).
The Northern Territory Government supports the development of a profitable donkey industry in principle. However the development of a commercial business case will require rigorous assessment based on the particular circumstances of the individual enterprise including location and available services which vary across the Territory. The Northern Territory Government also cautions that detailed business planning is required to carefully consider the opportunities as well the current challenges to production.
Distribution of donkeys in the Northern Territory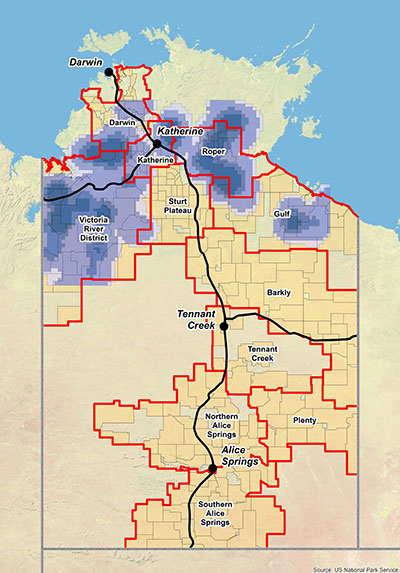 Donkey farming models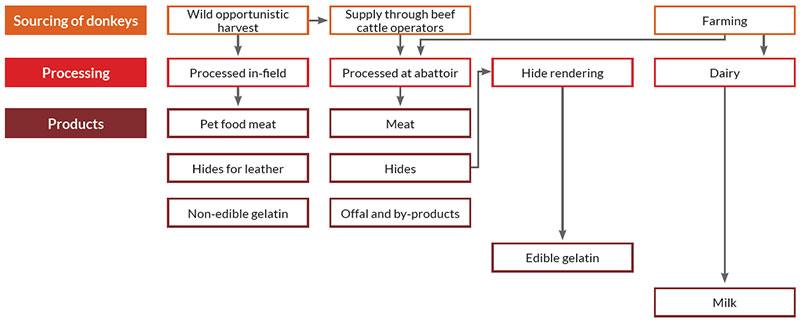 For more information on donkey control and commercial farming go to the Northern Territory Government website
Disclaimer: This web page includes information provided by third parties. The information is general in nature and is for information purposes only. The Northern Territory Government makes no representation about the veracity or accuracy of information provided by third parties. You must rely on your own due diligence before proceeding. You should consider seeking independent professional advice.