Project description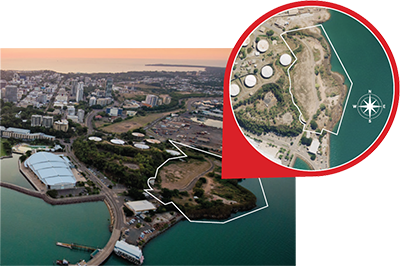 The Northern Territory (NT) Government is seeking private sector investment to develop an international standard water theme park in Darwin. The development may also include other complementary attractions such as entertainment precincts, recreational activities, and food and retail outlets.
The Darwin water theme park project represents an important element in the NT Government's vision to:
grow and strengthen the Darwin CBD
improve the liveability of Darwin by providing a large scale family attraction and event destination
add to Darwin's tourism competitive strengths by providing another significant reason for tourists to visit Darwin and stay longer in the NT
stimulate and unlock additional investment in the local economy
create enduring direct and indirect employment opportunities.
International firm Pico Play developed a business case for the water theme park which indicates a commercially attractive investment for the private sector, which will not require ongoing support from government.  The business case includes:
a mix of entertainment / rides to cater to a diverse audience and market
unique theming and attractions to provide a key point of difference in the Australian and regional market
the potential to attract around 300 000 visitors per annum.
Current status
On 21 May 2018, the NT Government called for expressions of interest (EOI) for suitably qualified proponents to invest, develop and operate the international standard water theme park. The EOI closed on 22 August 2018.
The government has nominated a five hectare site within the Darwin central business district for the project. Development of the site will extend the existing Darwin waterfront tourism precinct and provide public access along the foreshore.
In early 2019 the NT Government undertook a structured engagement process with potential proponents and investors to progress the project's development.
In June 2019, following consideration of the EOIs, and the outcomes of the structured engagement process, the NT Government announced it was no longer actively pursuing the development of the Darwin Water Theme Park project.
The NT Government is willing to engage and share information with interested parties should they wish to pursue the development of a water-based attraction in the Darwin region. The NT Government will remain open to considering proposals from the private sector under existing government policies.
Disclaimer: This web page includes information provided by third parties. The information is general in nature and is for information purposes only. The Northern Territory Government makes no representation about the veracity or accuracy of information provided by third parties. You must rely on your own due diligence before proceeding. You should consider seeking independent professional advice.