The opportunity
Equatorial Launch Australia's Arnhem Space Centre is set to be one of Australia's first commercial space launch facilities providing efficient launch, tracking and recovery options for government, research and commercial customers. Arnhem Space Centre is on track to commence operation in 2021 and will help to alleviate constraints on the supply of launch services resulting from increased demand for small satellites.
Equatorial Launch Australia is looking to attract equity investment and add to its growing portfolio of launch customers.
Why the Territory
Arnhem Space Centre is located in the Northern Territory's East Arnhem region just 12 degrees from the equator, allowing launch vehicles to leverage the earth's rotation to gain extra velocity. This improves payload to fuel ratios providing significant cost savings over alternative global launch facilities.
The launch facility will initially be equipped with three launch pads to accommodate sub-orbital and small orbital satellite launch vehicles. The facility's design will allow the site to reliably scale to support all current and future launch and recovery technologies. All orbits are achievable from Arnhem Space Centre, with comparative advantage in launches to equatorial low earth orbit, geosynchronous equatorial orbit, lunar orbit and deep space.
Arnhem Space Centre is located just outside of the town of Nhulunbuy, a regional service hub for the Northern Territory's East Arnhem region, providing access to crucial existing infrastructure including:
high quality airport
deep sea port
regional hospital and accommodation
broadband optical fibre connectivity.
The region is sparsely populated, air traffic is minimal and the nearby Gulf of Carpentaria has low activity, allowing for frequent launch and easy recovery.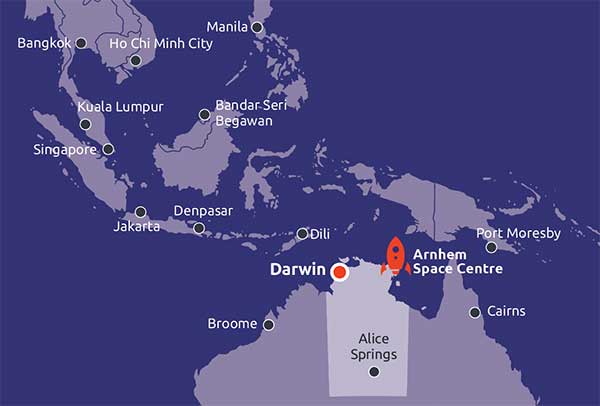 Strategic relationships
Equatorial Launch Australia has established a strong network of strategic relationships, all working to support the sustainability and growth of the Arnhem Space Centre. These include the Gumatj Traditional Owners, the Northern Territory Government and Developing East Arnhem Limited.
Equatorial Launch Australia has confirmed agreements with proven launch vehicle providers, as well as a number of international launch customers, with NASA planning to conduct a sub-orbital launch campaign from Arnhem Space Centre in 2022.
For further information on the space industry in the Northern Territory, go to the Department of Industry, Tourism and Trade website.
Disclaimer: This web page includes information provided by third parties. The information is general in nature and is for information purposes only. The Northern Territory Government makes no representation about the veracity or accuracy of information provided by third parties. You must rely on your own due diligence before proceeding. You should consider seeking independent professional advice.