Darwin, the capital of Australia's Northern Territory, is the closest Australian capital city to Asia and is serviced by an international airport, which operates 24 hours a day, seven days per week. Darwin is a modern city situated on a large, natural, deep water harbour, with local habitats ideal for activities such as sailing, boating, fishing and mud-crabbing.
The climate in Darwin is sub-tropical, with average daily maximum temperatures ranging from 30 to 35ºC. Most rainfall occurs in the wet season from October through to April and there is a dry season between May and September each year. During this dry season, there is usually little or no rain and Darwin experiences cooler evening temperatures (between 16 and 22ºC overnight minimums).
Developments in and around Darwin include seaside estates, apartment complexes, new greenfield housing developments and a range of tourism accommodation, industrial sites, commercial offices and retail shops.
Beyond the Darwin CBD there is an extensive rural area where residential blocks are commonly 2.5 hectares (five acres). This area is situated about 33kms from the Darwin CBD and also includes larger horticultural areas producing mangoes and a range of other fruits and vegetables.
Potential property investments in Darwin and surrounding areas include residential homes, luxury homes, apartments, hotels, office accommodation, shops and shopping centres, retirement and aged care complexes, rural horticultural production blocks, industrial estates and warehouses and a range of other opportunities associated with a modern city.
The Northern Territory holds a unique title by not having a tax on land. Darwin also has a competitive advantage over other cities with no foreign investor tax making it the most attractive place to live, work and play.
Darwin has had an investor rental yield consistently at, or above, 5% for the past decade which has meant it consistently has rental yields well above any other Australian capital city. Currently the yield is 5% on three bedroom houses (which is increasing) and 4.9% on two bedroom units. Sydney and Melbourne are offering yields of between 1% and 3%.
Darwin has consistently produced good economic returns for property investors - around 5% over the past two years and 6% over the past decade. Rental yields are some of the highest for Australian capital cities. The average rental yield in Darwin is 4.7% for a three-bedroom house and 4.0% for a two-bedroom unit.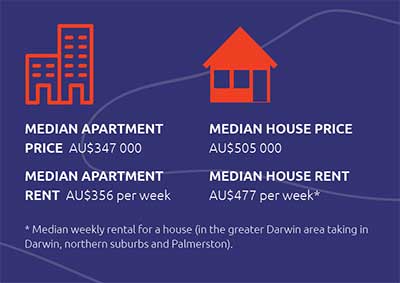 Disclaimer: This web page includes information provided by third parties. The information is general in nature and is for information purposes only. The Northern Territory Government makes no representation about the veracity or accuracy of information provided by third parties. You must rely on your own due diligence before proceeding. You should consider seeking independent professional advice.