The opportunity
Investment opportunities in international education and training (IET) sector include stand-alone campuses, multi-user training facilities and related infrastructure, such as student accommodation. Delivery of niche courses related to key skills shortages in the Territory offer significant potential.
Why the Territory
According to a Deloitte survey, the top reasons cited by international students for why they choose to study in the Territory are:
migration pathways
reputation of the education institution
lifestyle.
As at November 2020, there were 470 international students studying in the Territory mostly in Darwin. For businesses, lower levels of local competition matched with high global demand for Australian skills and qualifications, and proximity to international markets, are driving investment interest in the Territory's IET sector.
The IET sector is supported by the Northern Territory Government to achieve step change in international student numbers, with a target of four fold growth identified in the Northern Territory International Education and Training Strategy, 2019 to 2025. This growth target, which is still on track despite COVID-19 and Australia's borders being closed, is expected to return AUD332 million in export revenue to the Territory economy by 2025.
Further to this, a new Education and Civic Precinct including a new Charles Darwin University City campus is currently under construction in Darwin's CBD. The new precinct aims to attract more international students, boost retail activity and increase vibrancy in the CBD.
With favourable investment conditions and government support to grow the industry, IET will be one of the primary contributors to the Territory economy over the coming years.
The Territory's competitive advantages include:
opportunity for first movers
proximity and connectivity to international markets for transnational delivery of courses
the community and businesses accepting of and willing to employ international students
a stable, flexible and responsive government supportive of the IET sector.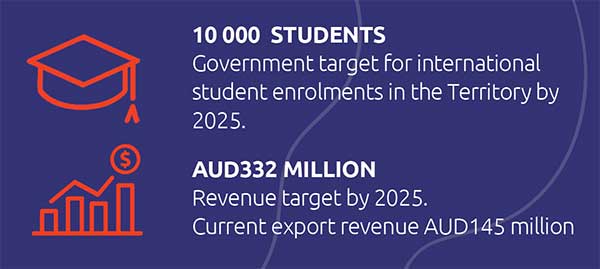 Disclaimer: This web page includes information provided by third parties. The information is general in nature and is for information purposes only. The Northern Territory Government makes no representation about the veracity or accuracy of information provided by third parties. You must rely on your own due diligence before proceeding. You should consider seeking independent professional advice.